The Dead Mule has submitted the following poets and their poems [published in the Dead…
Read More
Poetry Editor's Note:
Each April the Dead Mule publishes a Poet Laureate of a Southern State at the top its list of fine poets. This year's honor goes to Cathy Smith Bowers, Poet Laureate of North Carolina. Born in South Carolina and Southern to the core, Cathy is the sixth in the Dead Mule's April Poet Laureate Series.
So help me welcome Cathy to our Big Ole Southern Family.
Read More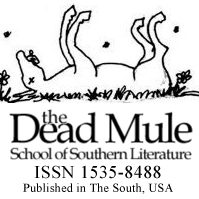 "No good Southern fiction is complete without a dead mule." –Valerie MacEwan, 1996